Between July and August I have been back in Rio de Janeiro, this time to return / give back my research to the people and groups that I worked with. I gave several presentation of my research behind closed doors: these events lasted hours, first my presentation, second questions and debate. It has not been easy: the people making questions were the protagonists of my research! At the end everything was good and I received positive comments.
I went back home with the more important support of the final findings and elaborations of my research, the one of the participants of my research.
While I was there, I witnessed the catastrophic effects of the Olympics Games, organized and carried out only thanks to the state of emergency declared by the State of Rio de Janeiro. At the same time I also participated in some demonstration and saw that the spirit of revolt of June 2013 is still alive in a new generation.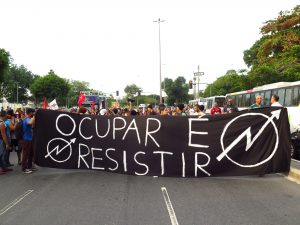 Teachers' demonstration in front of the Maracan stadium, the banner says: "Occupy and Resist"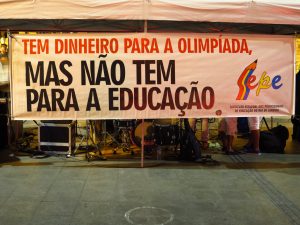 Teachers' demonstration in the Cinelandia square, the banner says: "There is money for the Olympics, but there is none for the education"